$131.90
-$1.00 (-0.75%)
High: $134.92
Low: $131.75
Volume: 1,336,063
Weekly Natural Gas Storage Report for week ending April 14, 2017
Weekly Natural Gas Storage Report
for week ending April 14, 2017   |   Released: April 20, 2017 at 10:30 a.m.   |   Next Release: April 27, 2017
Working gas in underground storage, Lower 48 states Summary text CSV JSN
 
 
Historical Comparisons
Stocks
billion cubic feet (Bcf)
 
Year ago
(04/14/16)
5-year average
(2012-16)
Region
04/14/17
04/07/17
net change
implied flow
 
Bcf
% change
Bcf
% change
East
278
 
 
266
 
 
12
 
 
12
 
 
 
410
 
 
-32.2
 
 
338
 
 
-17.8
 
 
Midwest
487
 
 
476
 
 
11
 
 
11
 
 
 
538
 
 
-9.5
 
 
375
 
 
29.9
 
 
Mountain
144
 
 
141
 
 
3
 
 
3
 
 
 
152
 
 
-5.3
 
 
122
 
 
18.0
 
 
Pacific
223
 
 
221
 
 
2
 
 
2
 
 
 
271
 
 
-17.7
 
 
237
 
 
-5.9
 
 
South Central
983
 
 
957
 
 
26
 
 
26
 
 
 
1,113
 
 
-11.7
 
 
762
 
 
29.0
 
 
   Salt
314
 
 
301
 
 
13
 
 
13
 
 
 
341
 
 
-7.9
 
 
209
 
 
50.2
 
 
   Nonsalt
670
 
 
656
 
 
14
 
 
14
 
 
 
773
 
 
-13.3
 
 
553
 
 
21.2
 
 
Total
2,115
 
 
2,061
 
 
54
 
 
54
 
 
 
2,483
 
 
-14.8
 
 
1,833
 
 
15.4
 
 



Summary
Working gas in storage was 2,115 Bcf as of Friday, April 14, 2017, according to EIA estimates. This represents a net increase of 54 Bcf from the previous week. Stocks were 368 Bcf less than last year at this time and 282 Bcf above the five-year average of 1,833 Bcf. At 2,115 Bcf, total working gas is within the five-year historical range.

For information on sampling error in this report, see Estimated Measures of Sampling Variability table below.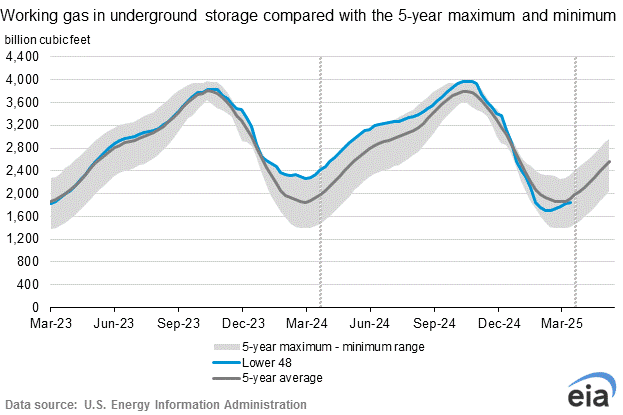 Note: The shaded area indicates the range between the historical minimum and maximum values for the weekly series from 2012 through 2016. The dashed vertical lines indicate current and year-ago weekly periods.