Can Trump Save the Coal Industry? These 6 Charts Say No…
Can Trump Save the Coal Industry? These 6 Charts Say No…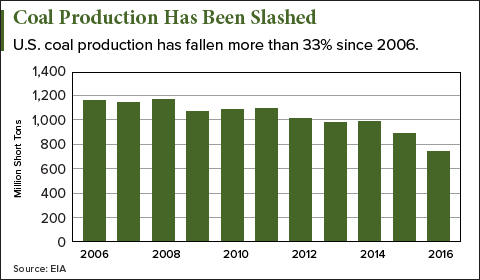 wallstreetexaminer.com / by Dustin Parrett via Money Morning / April 14, 2017
During the 2016 campaign, then candidate Trump promised "we're going to save the coal industry." And in late March, President Trump signed an executive order ending a coal mining regulation protecting nearby water sources.
But can Trump save the coal industry?
This simple answer is "no." And that means energy investors hoping to profit from a rejuvenated coal industry are going to be disappointed.
But there's a better option. In fact, we actually have one energy stock that capitalizes on the changing energy landscape and the shift away from coal. That means you can profit handsomely, too.
We'll show you exactly which stock to buy to bag over 60% gains from the big changes coming to the coal industry. And you don't have to just take our word for it – these six charts show you exactly why coal isn't coming back…