Oil Fields Pumping a Third of Supply Die Fastest in 24 Years
Oil Fields Pumping a Third of Supply Die Fastest in 24 Years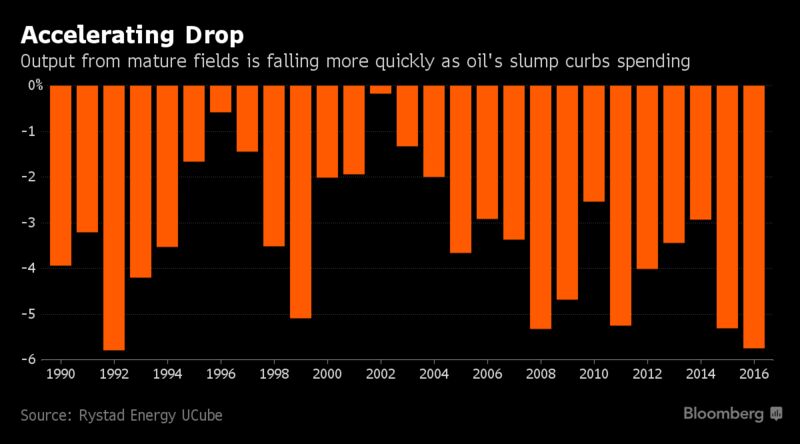 The tussle for supremacy between OPEC and U.S. shale drillers is killing off older oil fields at the fastest pace in almost a quarter century. That could hurt the industry once the current glut has faded.

The three-year price slump triggered by the battle for market share choked off funds for aging deposits elsewhere, accelerating their decline. Output at older fields from China to North America -- making up a third of world supply -- fell 5.7 percent last year, the most since 1992, according to Rystad Energy AS. It'll drop about 6 percent in 2017 if oil stays at current prices, the consultant said.

Oil fell from above $100 a barrel in 2014 to as low as $26 in 2016 as the Organization of Petroleum Exporting Countries opened the taps in an effort to stem the surge in shale production. That set off the worst industry downturn in a generation, forcing cost-cutting companies to focus on higher-margin assets at the expense of older, costlier fields. While OPEC changed course last year and curbed output to boost prices, shale was the main beneficiary and resurgent U.S. output has kept crude below $50.