Weekly Natural Gas Storage Report for week ending February 10, 2017
Weekly Natural Gas Storage Report
for week ending February 10, 2017   |   Released: February 16, 2017 at 10:30 a.m.   |   Next Release: February 23, 2017
Working gas in underground storage, Lower 48 states Summary text CSV JSN
 
 
Historical Comparisons
Stocks
billion cubic feet (Bcf)
 
Year ago
(02/10/16)
5-year average
(2012-16)
Region
02/10/17
02/03/17
net change
implied flow
 
Bcf
% change
Bcf
% change
East
479
 
 
520
 
 
-41
 
 
-41
 
 
 
583
 
 
-17.8
 
 
521
 
 
-8.1
 
 
Midwest
642
 
 
685
 
 
-43
 
 
-43
 
 
 
703
 
 
-8.7
 
 
585
 
 
9.7
 
 
Mountain
150
 
 
155
 
 
-5
 
 
-5
 
 
 
148
 
 
1.4
 
 
142
 
 
5.6
 
 
Pacific
205
 
 
208
 
 
-3
 
 
-3
 
 
 
256
 
 
-19.9
 
 
246
 
 
-16.7
 
 
South Central
969
 
 
991
 
 
-22
 
 
-22
 
 
 
1,057
 
 
-8.3
 
 
864
 
 
12.2
 
 
   Salt
332
 
 
338
 
 
-6
 
 
-6
 
 
 
293
 
 
13.3
 
 
217
 
 
53.0
 
 
   Nonsalt
636
 
 
654
 
 
-18
 
 
-18
 
 
 
764
 
 
-16.8
 
 
647
 
 
-1.7
 
 
Total
2,445
 
 
2,559
 
 
-114
 
 
-114
 
 
 
2,748
 
 
-11.0
 
 
2,358
 
 
3.7
 
 



Summary
Working gas in storage was 2,445 Bcf as of Friday, February 10, 2017, according to EIA estimates. This represents a net decrease of 114 Bcf from the previous week. Stocks were 303 Bcf less than last year at this time and 87 Bcf above the five-year average of 2,358 Bcf. At 2,445 Bcf, total working gas is within the five-year historical range.

For information on sampling error in this report, see Estimated Measures of Sampling Variability table below.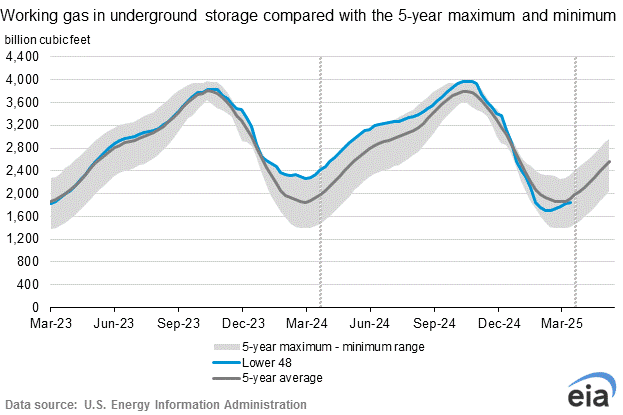 Note: The shaded area indicates the range between the historical minimum and maximum values for the weekly series from 2012 through 2016. The dashed vertical lines indicate current and year-ago weekly periods.
Black Blade: This week's EIA Natural Gas Storage Report is NEUTRAL as draws were within expectations. We are not invested in the sector at this time except for the energy services sector.