IDB SHUTDOWN SCHEDULE
Our fund raising round was not successful. As a result, IDB will be going off line and into cold storage. If our competitors should stumble, I may re-active the site in the future but for now, we're turning out the lights.
I had planned to go off-line on April 4th. Due to some important and unplanned changes in our maintenance schedule, I am now bumping that up to next Tuesday morning, March 27th, 2018. PM 'admin' if you need to reach me.
You should use the next 5 days to find a new home for your community.
Running IDB has been fun over the years and I hope you enjoyed your time here as well. Sincerely, Paul
P.S. News on IDB Funding -- this is now on it's own page to clean up the site a bit.
Tax hike in India could boost illegal bullion, jewelry sales and smuggling
Tax hike in India could boost illegal bullion, jewelry sales and smuggling
gata.org / 2017-07-04 12:34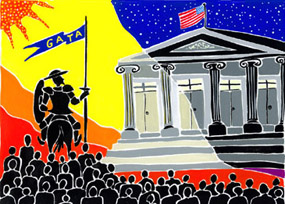 By Rajendra Jadhav
Reuters
Tuesday, July 4, 2017
MUMBAI — A hike in taxes on gold sales in India could stoke under-the-counter buying and drive up appetite for precious metal smuggled into the country, where millions of people store big chunks of their wealth in bullion and jewelry.
As part of a new nationwide sales tax regime that kicked in on July 1, the goods and services tax on gold has jumped to 3 percent from 1.2 percent previously, with traders and buyers saying the move will likely force more transactions into the black market.
"Three percent is too much. I preferred to buy without receipts. The jeweler did not have any problem," said a middle-aged buyer, who declined to be identified after making purchases on Monday at the country's biggest bullion market, Zaveri Bazaar in Mumbai.
Smaller shops could be more inclined to sell without receipts, potentially hitting sales at big jewelers that keep to the rules, said Harshad Ajmera, the proprietor of JJ Gold House, a wholesaler in the eastern Indian city Kolkata.