IDB SHUTDOWN SCHEDULE
Our fund raising round was not successful. As a result, IDB will be going off line and into cold storage. If our competitors should stumble, I may re-active the site in the future but for now, we're turning out the lights.
I had planned to go off-line on April 4th. Due to some important and unplanned changes in our maintenance schedule, I am now bumping that up to next Tuesday morning, March 27th, 2018. PM 'admin' if you need to reach me.
You should use the next 5 days to find a new home for your community.
Running IDB has been fun over the years and I hope you enjoyed your time here as well. Sincerely, Paul
P.S. News on IDB Funding -- this is now on it's own page to clean up the site a bit.
Today's Silver News Shows Why Prices Are Down for the Second Straight Day
Today's Silver News Shows Why Prices Are Down for the Second Straight Day
wallstreetexaminer.com / by Alex McGuire • June 30, 2017
This is a syndicated repost courtesy of Money Morning. To view original,click here. Reposted with permission.
The big silver news today (Friday, June 30) is how prices are on track for a 4% gain in the first half of the year despite falling for the second day in a row. We are still bullish on the metal's price in 2017.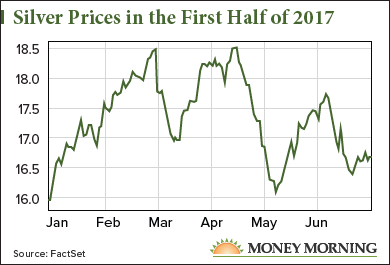 The price of silver is down 0.1% today and trading at $16.63 per ounce, marking the second straight session of losses after yesterday's 0.8% decline to $16.65. If the metal closes at $16.63, it will post a flat performance for the week. However, silver prices would still cap off the first half of 2017 with a 4% gain.