ADAK Camping Trailer Keeps You Cozy Off The Grid
ADAK Camping Trailer Keeps You Cozy Off The Grid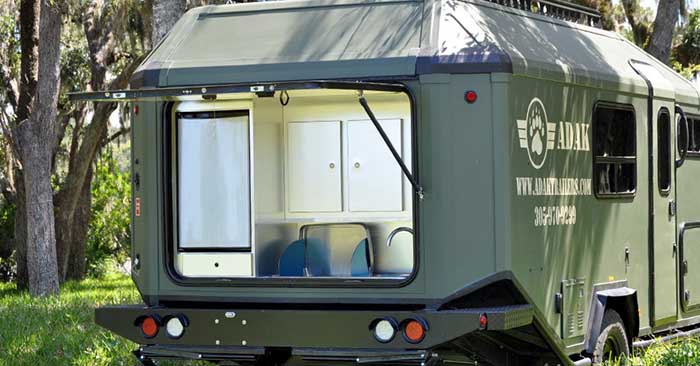 Image Credit: newatlas.com
As many of you know, I love camping trailers. I especially love this off grid trailer from ADAK because it is just pure awesomeness rolled up in one of the best trailers I have ever seen.
In designing a trailer, ADAK sought to create a blend of rugged on the outside, comfy on the inside. It all starts with an aluminum I-beam frame connected to its two all-terrain tire-shod wheels by a custom torsion-bar suspension. An FRP honeycomb floor is bolted and bonded to the aluminum chassis, creating what the company calls a "torque box effect for unsurpassed rigidness."
The ADAK trailer comes standard with a 45-gal (170-L) fresh water tank, 12-volt pressurized water system, and tankless, on-demand hot water. ADAK describes the water system as a four-season design tested down to below-zero conditions. The standard electrical system has a 1,000-watt inverter, dual six-volt deep-cycle flooded batteries, and one exterior and four interior 120-volt outlets. A generator is available optionally.
Check out more photos and a few videos in the link below… This is obviously not cheap so be warned. If I had all the money in the world, this would be top on my purchase list.