$0.00
$51.65 (-100.00%)
High: $46.95
Low: $52.45
Volume: 45
IDB SHUTDOWN SCHEDULE
Our fund raising round was not successful. As a result, IDB will be going off line and into cold storage. If our competitors should stumble, I may re-active the site in the future but for now, we're turning out the lights.
I had planned to go off-line on April 4th. Due to some important and unplanned changes in our maintenance schedule, I am now bumping that up to next Tuesday morning, March 27th, 2018. PM 'admin' if you need to reach me.
You should use the next 5 days to find a new home for your community.
Running IDB has been fun over the years and I hope you enjoyed your time here as well. Sincerely, Paul
P.S. News on IDB Funding -- this is now on it's own page to clean up the site a bit.
Take The Guns First" - Trump Breaks With Republicans Over Gun-Control Plan
Black Blade: It appears that D Trump is turning on gun owners and biting the hand that fed him. Sad to see him cave in so easy.
Take The Guns First" - Trump Breaks With Republicans Over Gun-Control Plan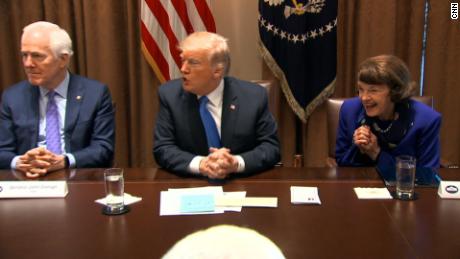 Update
: US Senator Ben Sasse (R-NE). a member of the Senate Judiciary Committee, issued the following statement regarding President Trump's comments today on due process and the Second Amendment:
"Strong leaders don't automatically agree with the last thing that was said to them. We have the Second and due process of low for a reason.
We're not ditching any Constitutional protections simply because the last person the President talked to today doesn't like them."
*  *  *
President Trump told a group of lawmakers that they must do something to keep guns away from mentally ill individuals - even if that means raising the minimum age for rifle ownership to 21, Bloomberg reports.


His remarks appeared to contradict a CNN report from earlier in the week, which quoted anonymous White House aides saying Trump would soon walk back his support for raising the age limit.
But on Wednesday, in what the New York Times characterized as a "shocking" break with his Republican Congressional allies, Trump told lawmakers during a televised meeting in the Cabinet Room that easing gun owners' ability to carry concealed weapons across state lines, a provision of the House-passed gun bill and the NRA's top legislative priority, should be part of a separate bill, a strategy favored by Democrats. The House bill combining background check provisions with the loosening of concealed carry rules has stalled in the Senate after passing the House.

Instead, Trump said he supports the proposal from Sens. Joe Manchin, D-W.Va., and Pat Toomey, R-Pa., which he says is best positioned to pass. Sen. Amy Klobuchar agreed that the Manchin-Toomey bill is a "good place to start."
"It would be so beautiful to have one bill that everyone could support," Mr. Trump said as Senator Dianne Feinstein, Democrat of California, sat smiling to his left. "It's time that a president stepped up."
Per the Times, Trump repeatedly suggested that the dynamics surrounding the gun control debate had shifted, in part, because of his presence in the Oval Office - a remark that earned him cheers from Democrats.