$2.77
$0.04 (1.47%)
High: $2.85
Low: $2.74
Volume: 3,452,745
This is EMESs' competition; their stock prices typically move in tandem……
Hi-Crush Partners: More Rigs, More Sand, And Some M&A Chatter
Summary
Rig counts on the rise across America.
 
More sand is needed per rig now than ever before.
 
M&A chatter might start heating the sector up.
 
Hi-Crush Partners LP (HCLP) is starting to look more and more bullish, the closer the company comes to its next earnings report. Rig counts continue to rise across the country as oil holds its position over $50 a barrel. As technology advances, more and more sand is needed by oil companies to get the oil out of the ground and on its way to consumers, bolstering demand regardless of oil prices. After a couple of hard years following the collapse of oil prices, M&A chatter might be starting to heat up as outside companies look to find hidden value in sand companies with the bottom in oil prices already established.
 
Since the crash of oil prices around the beginning of 2015, oil rig counts went from a high of around 1900 rigs to around 400 active rigs as companies found pumping oil at sub $30 a barrel not nearly as enticing as when it was rocking and rolling at close to $90 a barrel at the beginning of 2015.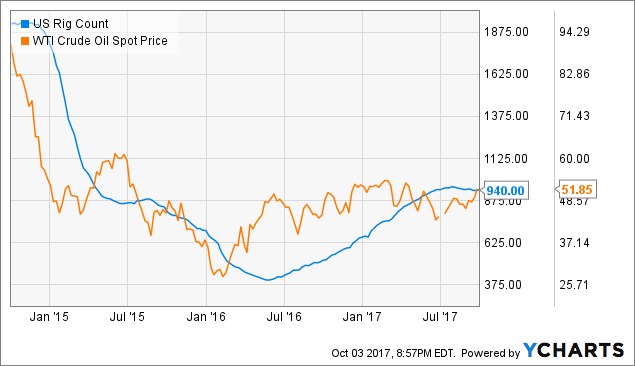 US Rig Count data by YCharts
Since the lows of mid 2016, rig counts have been steadily increasing across the U.S. as oil prices have slowly recovered, along with the fact that with the advancement of technology, more sand is needed for every active rig now than ever was needed in the past. U.S. sand demand looks to be at least 150% higher in 2018 than in 2016 according to Raymond James as proppant (sand used to keep fissures in an oil-bed open) intensity (pounds per lateral foot) has increased more than 50% since the beginning of 2014 even as rigs shut down and total demand dropped.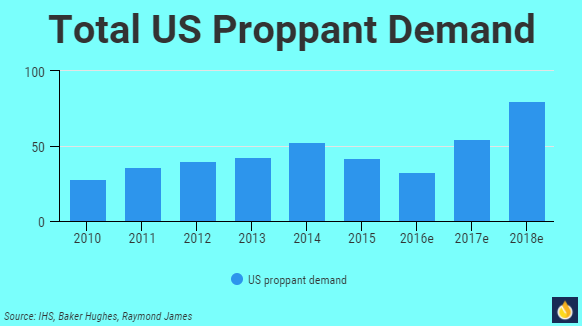 Chart by IHS, Baker Hughes, and Raymond James
 
This incredible projected surge in sand use across the U.S. for the next two years is especially important to sand companies which get to key areas like the Permian basin first. Being the first mover in the area like the Permian gives Hi-Crush a strategic advantage over competition, which should help the company crush earnings results from previous years, as sand use explodes, and the company takes advantage of its logistical superiority.
 
Finally, merger and acquisition activity might start to heat the sector up as Bloomberg recently reported that mining company SCR-Sibelco NV is considering acquiring U.S. frac sand company Fairmount Santrol Holdings Inc. (FMSA) after the mining company lost half its value over the course of the year.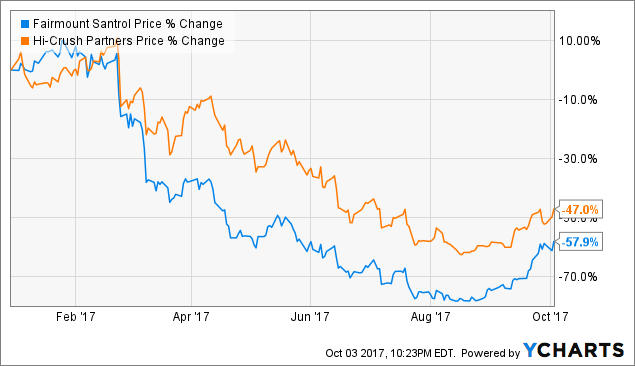 FMSA data by YCharts
Small companies, with a market cap around a billion dollars, like Fairmount might be tasty targets as the stocks of the companies have not fully rebounded from the drop in oil prices since 2015 even though there has been a nice rebound in rig count over the past couple years, and projected sand use for the next couple of years looks explosive.
 
A rising tide lifts all boats is a common expression where an acquisition premium attached to a company like Fairmount has a good chance to lift the values of similar sand companies like Hi-Crush as interest heats up as perceived or hidden value becomes more evident. Just look at how Hi-Crush and Fairmont stocks reacted to the recent M&A chatter after the news hit Bloomberg in the early afternoon.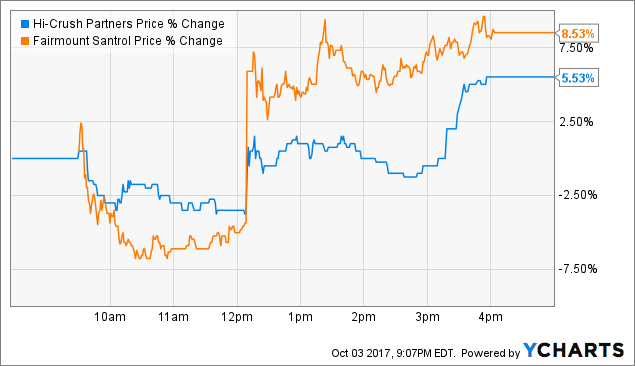 HCLP Price data by YCharts
Notice how the stocks were flat to negative most of the day then rallied mightily over the late afternoon as the news spread, and investors took speculative bullish bets.
 
Rig counts are slowly rising across the U.S. as oil prices have climbed past $50 a barrel and seem intent on trying to maintain that level. Rig headwinds, along with the fact that rigs are using considerably more sand to retrieve oil, are helping to set up a bullish opportunity for sand companies like Hi-Crush, which should directly benefit more than similar companies from being a first mover in the Permian Basin.

Add in a little M&A speculation, on a beat up sector looking for a promising demand explosion over the next year or two, and it might be a recipe for outsized stock gains as Hi-Crush looks to capitalize on potential excellent upcoming earnings reports. I remain long Hi-Crush as I see far more upside with this story than downside. Best of luck to all.
Disclosure: I am/we are long HCLP.

I wrote this article myself, and it expresses my own opinions. I am not receiving compensation for it (other than from Seeking Alpha). I have no business relationship with any company whose stock is mentioned in this article.