$2.77
$0.04 (1.47%)
High: $2.85
Low: $2.74
Volume: 3,452,745
Synergy Pharmaceuticals' First Commercial Launch Trajectory Solidifies
Summary
Synergy's first FDA-approved drug, Trulance, has been commercially available for over six months now to help treat chronic idiopathic constipation, or CIC.
Encouraging inroads are being made in establishing early market share in the gastrointestinal, or GI, prescription drug sector.
Tailwinds abound as a second indication, IBS-C, for Trulance fast approaches sNDA approval.
 
As of January 19, 2017, the US Food and Drug Administration approved Synergy Pharmaceuticals' (NASDAQ:SGYP) first compound (Plecanatide) for treatment of Chronic Idiopathic Constipation (CIC). Shortly thereafter, in mid-March, Trulance (Plecanatide) was launched to take on the estimated 45 million strong population of constipation afflicted individuals in this country. In mid-April, I wrote this article to give a lay of the land of the already competitive GI CIC/IBS-C market space, which includes Sucampo Pharmaceuticals (NASDAQ:SCMP) with their lead product Amitiza along with current market leader Ironwood Pharmaceuticals (NASDAQ:IRWD) with their thus far blockbuster Linzess, and how Synergy could not only be a viable addition, but overtake the top in sales. We return now, almost half a year later, to recap the valuable data points that have emerged since launch to gauge whether this initial enthusiasm in Trulance's potential was warranted or has given room for pause.
 
To start off, it should not be underestimated that every sequential month since launch has exhibited growth over that of the previous. The following slide has been featured in several recent investor conferences attended by Synergy's management, this one specifically during the Cantor Fitzgerald Global Healthcare Conference held just this past Wednesday: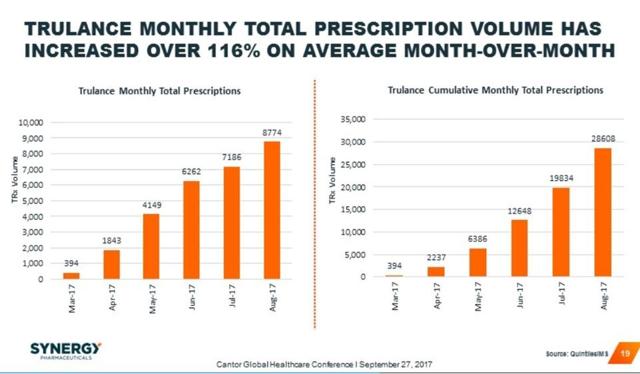 Source: Cantor Fitzgerald Global Healthcare Conference
This sequential growth will continue for the month of September, as through the first three weeks of the month it is on pace to surpass August's total. Another important slide that management has been featuring and updating throughout the last several months involves market share in terms of the 'New-to-Brand' prescriptions among Gastroenterologists: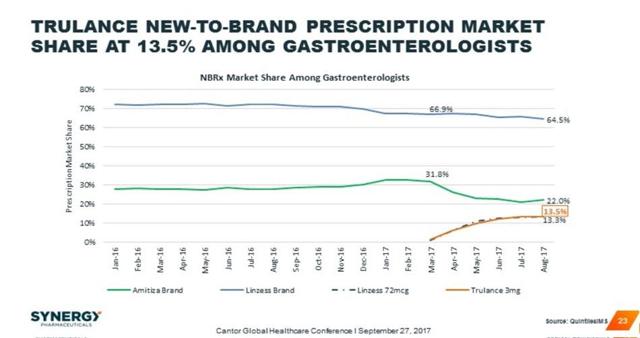 Source: Cantor Fitzgerald Global Healthcare Conference
Since March, Trulance has been chipping away at the totals, and although there has been a lull since the summer months, there remains ample opportunity to gain more considering the many disadvantages the new drug has faced versus the aforementioned entrenched and established names. The key takeaway of late is to see that the 72mcg version of Linzess, which coincidentally was also approved in January to likely combat Trulance's superior Adverse Effects (AE) profile, has been surpassed ever so slightly. This could be a major indicator of Trulance's viability in further expanding its footprint going into early 2018.
 
Considering these initial trends, we can begin to extract a more cohesive portrait of what is in store for the coming quarters. In terms of script growth, using the cumulative method could create the basis for the below graph: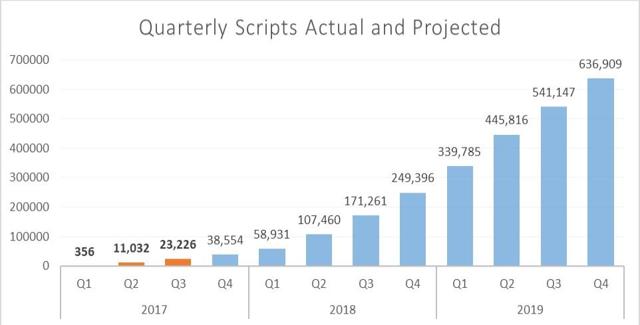 This scenario utilizes the current weekly trends to date and extrapolates them over the next 2+ years, where we see gradually decreasing growth rates as would be expected with an ever growing base number. By the end of 2019, Trulance would have accomplished over 2.5 million total prescriptions during its commercial lifetime. If this number was to have the Q2 average price per script ($203.40; $2.3m net revenues/11,032 scripts) applied as a multiple, we would expect over $533m in total net revenues in this three-year span. We'll come back to why this is an important figure.
 
Using the Linzess launch as a comparable, for its first full quarter in Q1 2013, it was reported to have achieved 65,000 prescriptions. In its second full quarter, Linzess had over 125,000 prescriptions. In the third, 178,000.
 
Sequential Trulance growth as shown above follows a 110% (Actual, Q3 vs. Q2) and 65% (Projected, Q4 vs. Q3) rate, compared to the Linzess 92% and 40% rates. With much smaller base script numbers, the higher rate for Trulance should be well achievable heading into Q4.
 
As 2017 approaches its close, Synergy closes in on two key milestone moments. We start off with the slightly more distant one. Of the 45 million suffering from constipation in the US, 12 million alone have IBS-C. Meaning that the launch thus far has overall (some off-label prescriptions highly probable) not included nearly a third of the target market of Trulance. Combined for 2016, Amitiza and Linzess were able to take in $1,042.1m in revenues, a 24.8% increase from the $835.4m for 2015. This is a target population that is clearly becoming more and more aware to their options and willing to use prescriptions as a solution to their ailment. Trulance has a PDUFA date of January 24, 2018, fast approaching. Should the indication be approved, it should serve as a shot in the arm for the growth rate as a third of over a billion dollar market becomes accessible.
 
Another market that remains untapped to date is that of Medicare enrollees; which happen to number in at a staggering 55.5 million as of 2015. Entry into Medicare Part D (non-inpatient/outpatient prescribed drugs) coverage has been in ongoing discussions according to management. With October formularies being updated as this has been written, it is expected that news should arrive very shortly (less than two weeks) on what status Trulance was able to achieve, if any, and on how many formularies. Medicare coverage is divided into 5 tiers of coverage and for branded names specifically this would be split between Tier 3 (preferred) and Tier 4 (non-preferred). The difference between the two is rather drastic, preferred status allows for co-payments all the way down to $20 instead of a usual 47-50% of the total drug cost having to be covered by the patient under non-preferred. In the case of Linzess and Amitiza, the former has an average co-pay of $70.90 and the latter $162.65 amongst 20 plans provided by insurers such as AARP, Aetna, and Silverscript for instance. The difference is mostly due to Amitiza having four formularies which charge half to nearly full price ($430) for the drug as compared to Linzess.
 
It probably doesn't need to be stated that, "The prevalence of constipation increases with age," but to be more thorough,"…in over 65 year-old population studies, 26% of women compared to 16% of men considered themselves to be constipated, while in a 84 year-old subgroup of patients, the proportion of sufferers increased to 34% in women and 26% in men…," according to a 2015 study. That's more than 20% of the population over 65 years, who in that year were estimated to number at a total of 47.7 million, with constipation issues. Between Medicare and IBS-C, Trulance has certainly been on the market with only a fraction of its full potential reach. For Linzess, gaining access to the Medicare formularies in Q1 2014 certainly helped them keep momentum in the quarters after, demonstrating back to back 36% and 22% script growth from Q2 to Q3 2014 (that quarter alone had 400,000 prescriptions filled).
The GI market is set to grow at a 6.5% CAGR through 2020. As noted earlier, the CIC/IBS-C market alone had a nearly 25% growth rate for 2016. Synergy finds itself in the right market, at the right time (a phrase used in one of their investor conference slides as well). We can now circle back to the $533m lifetime projection of net sales for Trulance through the end of 2019. Its importance lays in the fact that quarterly expenses for Synergy should be in the $50-60m range for the foreseeable future (for measure, $136m was spent in the first half of 2017). If we calculate this rate as a benchmark for the remaining 10 quarters in question, break-even would occur in approximately 18 months if spending would be limited to $50m or less. If closer to $60m, then sales would need to accelerate in a larger scale than presented.
 
In the overall scheme, time can be said to be on Synergy's side. Patents for Plecanatide have been secured through 2032. Financially, the company was as of June 30, 2017, reported to have had $81m in cash and on September 5, announced the closing of a $300m debt financing deal through CRG LP, an investment firm specifically focused on the healthcare sector. Very favorable terms were arranged as only $100m was agreed to be disbursed initially and a further $100m by February 28, 2018. The balance of that would be released on or before March 29, 2019, if certain milestones are met. The terms carry a reasonable 9.5% interest rate and mature on June 30, 2025. The multiple tranche strategy allows for the company to have the luxury of not being inundated with heavy interest costs while also leaving room for a potential acquirer to only be liable to a $40m termination fee instead of the full $300m sum. It's quite frankly a brilliant agreement, and I give due credit to both Gary Jacob (CEO) and Gary Gemignani (CFO) for securing it.
 
Time to peak sales is a method as to which to measure a drug's total value. According to the below data, the median time to peak sales falls roughly somewhere between 5 to 10 years in most cases.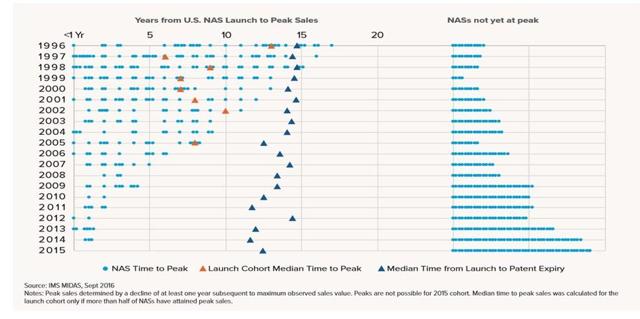 Source: Statnews
The average for a non-first to market drug is 6.93 years. If Trulance is on track to make $300m+ in 2019 based on our premise, then another four years to peak would sensibly land over the $600m figure. This is important because unlike IRWD and SCMP, SGYP owns ALL of their rights. Should these projections be reached, profitability is not a question but rather only a matter of pinpointing the when. IRWD, which currently carries a non-fully diluted market cap of $2.4B, still manages to carry a -$0.98 EPS with a blockbuster drug that has already cleared the $600m revenue hurdle in just four full years of sales. One has to wonder when Wall Street will recognize the fact that Synergy is slated to achieve in a shorter span of time what Ironwood to this day has not: profit from its IP. For reference, SGYP currently sports a non-full diluted market cap of just $731m.
 
My lone point of intrigue which remains is as to why Gary Jacob has not arranged for partnering internationally in any capacity to date. Ironwood, by the time Linzess launched in the US, had multiple partners for several regions around the world: in Europe, there was Almirall S.A., for Japan Astellas (OTCPK:ALPMY), and for China, AstraZeneca (OTCPK:AZNCF). Licensing agreements, along with milestone payments from partners with established sales teams, relations with foreign drug administrations, and experience abroad, would accelerate adoption of the Plecanatide compound. This infusion of non-dilutive, non-interest carrying capital could be used for not only funding a much larger US sales force, further sample pack production, or advertising; but also to further develop its second compound Dolcanatide for Ulcerative Colitis (UC) and Opioid Induced Constipation (OIC). These alternatives would either help capture more market share, more quickly and/or increase company value.
 
The only logical reason I can surmise for as to why Synergy is holding all of its rights to Plecanatide is to drive up its inherent value in an acquisition negotiation. In several instances, management has described its retaining of full worldwide rights as a "strategy". Other than the reason suggested, I cannot think as to what strategic purpose a company would not take money in the now; versus the later.
 
The coming weeks feature many key events for the nascent commercial entrant that is Synergy Pharmaceuticals. While many risks have been mitigated in the several months prior to today, others linger for the prospects of this company not so much succeeding but rather excelling in its market space. Medicare Part D coverage, specifically gaining preferred status like both of its current competitors, will be crucial for a sentiment change to occur before the year is over. In addition, the IBS-C indication must be approved in order to have some semblance of an equal footing in this competitive field.
 
In terms of total value, I continue to be bullish based on what has transpired with acceptance of the drug by both doctor and patient in these early stages. Considering the lean sales force (5x smaller than Ironwood's) and lack of a global sized partner (Allergan (NYSE:AGN) or Takeda (OTCPK:TKPHF)), Trulance's ability to capture over 10% of new to brand prescriptions is nothing short of encouraging. Our projection of sales through 2019 is a base case, the potential for more is there for the taking should the various variables line up in Synergy's favor. With peak sales currently aligning in the $600m+ range, using a conservative 3x multiple would result in a $1.8B value for Trulance in the US alone. International rights could yield another third of that figure, and Dolcanatide holds promise for a market that is valued at around $6B for 2022.
 
Safe to say, SGYP is undervalued by Mr. Market at the moment.
 
Disclosure: I am/we are long SGYP.
I wrote this article myself, and it expresses my own opinions. I am not receiving compensation for it (other than from Seeking Alpha). I have no business relationship with any company whose stock is mentioned in this article.